Porous mateials studied:
Sol-gel & CPG silicas
MCM templated silicas
SBA templated silicas
Activated carbons
Biochar
Zeolites
Catalysts
Cement & Concrete
Fired & unfired clays
Marine Sediments
Chalks, Shales
Sandstones
Oil-bearing rocks
Meteorites
Wood
Paper
Rubbers
Emulsions & Paint
Artificial skin
Bone
Melanised fungal cells
Hydrogels
Lab-Tools Ltd. is a micro/SME spin-off company specialising in nano-science, nano-metrology and instrumentation design.
Nano-science :

The study of the nano-scale properties of liquids in pores and at interfaces, primarily using NMR & SANS;
Application of the Gibbs equations to the nano-scale dynamics of liquids/ ices;
Neutron Diffraction Cryoporometry to study crystal phases.

Nano-metrology :

Bulk nano-scale to micro-scale structural characterisation;
NMR Cryoporometry to measure pore-size distributions, surface areas and pore volumes;
Neutron Scattering SANS & modelling techniques to measure nano-structural dimensions.

Instrumentation :

Highly compact precision NMR relaxation spectrometers based on VLSI, FPGAs and array-processing software.
Peltier cooled NMR instrumentation for pore-size measurement – US Patent 14/416,409.

Highly compact precision NMR relaxation spectrometer based on VLSI, FPGAs and array-processing software.

Lab-Tools Mk3 precision digital NMR Time-Domain NMR Relaxation Spectrometer - exhibits good long-term stability.
Fast spectrometer recovery enables measurement of short T2 decay times.
Has a wide range of automated single- and multi- component polynomial, exponential and Gaussian fitting routines for on- and off-line analysis.
Can measure dynamics and mobility in solids - even measures relaxation times in rigid materials like brittle ice.
Ideal for measuring calibrated quantities and mobilities of hydrocarbons in rock or biochar pores.
Precision thermo-electric wide-range temperature measurements capability : -50C to +80C. Wider temperature ranges on request.
Nano- through meso- to micro- pore-size distributions measured using NMR Cryoporometry.
Measures diffusion rates in liquids, in a static magnetic gradient.
Performs 1-D Imaging as a function of time, in static magnetic gradients.
Lab-Tools NMR Relaxation Spectrometer - 2019-09-04.pdf
Lab-Tools NMR Relaxation Spectrometer - Instrument.pdf
Lab-Tools NMR Relaxation Spectrometer - Example Measurements.pdf
#mri : Preliminary Imaging Results using the Lab-Tools Mk3 NMR Spectrometer.pdf
#diffusion : Measurements of Diffusion rates in liquids, using the Lab-Tools Mk3 NMR Spectrometer.pdf
Papers and Posters prepared using the Lab-Tools Mk3 and Mk2 Spectrometers
Please do contact us :
Lab-Tools NMR Spectrometer Contact Form

Lab-Tools also develop, operate and sell NMR Cryoporometry apparatus that is optimised to measure pore sizes, pore size distributions and pore volumes and to study materials that are structured on a sub-1nm to over 1µm length scale. Most finely porous materials are suitable for such studies, provided that a liquid can be added or is already present.
Lab-Tools NMR Relaxation Spectrometer - NMR Cryoporomety pore size measurement.pdf
This apparatus is based on wide-temperature range low-field NMR relaxation spectrometers with ultra-precise temperature control. A new generation of NMR instrumentation VT is now ready for release. Peltier or gas cooled probes are available from Lab-Tools for use with the Lab-Tools NMR spectrometer, or to retro-fit industry standard NMR spectrometers, for your own NMR pore-size measurements.
Background information on the Cryoporometric technique is available at www.cryoporometry.com/ .
Lab-Tools performs Contract Measurements on Porous Systems for both academia and industry.
Lab-Tools performs research to study the properties of liquids and their ices / gas hydrates in structured materials and at interfaces.
The studies we perform are relevant to :
Understanding the properties of water/ice at hydrophilic/hydrophobic and biological interfaces.
Understanding how to increase recovery from oil and gas reservoirs,
Determining the properties of methane hydrate in model and real marine porous systems,
Informing research on porous catalyst support systems,
Studying properties that affect the frost resistance of cement and fired clay,
Informing high performance nano-structured battery research,
Helping predict the longevity of biochar for carbon sequestration.
Lab-Tools performs industrial contract analyses and also joins with other bodies such as universities to perform academic research. Lab-Tools has close ties with academics at a number of universities.
Lab-Tools performs NMR contract analyses, including both measurements of dynamics/mobility/rigidity using NMR relaxation, and of Pore Size Distributions using NMR Cryoporometry :
Lab-Tools has successfully measured pore sizes in a wide range of porous materials, including oil and/or water wet materials. NMR Cryoporometry is one of the few techniques that can be applied to materials that can not be dried out without losing their structure. The technique is non-destructive, and can be used to follow evolution of pore structure for evolving systems.
The Lab-Tools pore-size distribution measurement range extends from sub 1nm to over 1µm. NMR Cryoporometry measures both the total pore volume and the pore volume distribution as a function of pore diameter.
We frequently find that NMR Cryoporometry (NMRC) may be preferable to more established methods such as BET gas adsorption or DSC thermal porisimetry, and can now also provide information on both pore diameter and pore throat size, unlike Hg Intrusion, which just measures the pore throat.
NMR Cryoporometry measurement costs are very competitive. Cost per sample depends on the pore-size range to be covered, and precision needed, but goes down markedly for multiple-sample batches.
Please contact us to discuss pore size measurements on your samples. Lab-Tools NMR Analysis Contact Form

Academic Consultants :
Prof John H. Strange:
(NMR & porous media) : Emeritus Professor of Experimental Physics, School of Physical Sciences, University of Kent, CT2 7NZ.
~160 Publications

Prof J. C. Dore:
(Neutron scattering & liquids in confined geometry) :
Emeritus Professor in Condensed Matter Physics, School of Physical Sciences, University of Kent, CT2 7NZ ~160 Publications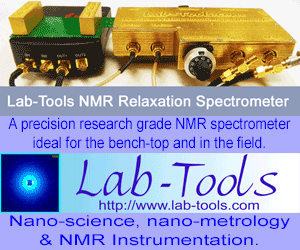 Normalised example pore size distributions, measured by NMR Cryoporometry. Pore size distributions for a clay fired at three different temperatures, measured by NMR Cryoporometry. 2D Resolved Pore Sizes - 4 tubes with different nano-pores, measured by spatially resolved NMR Cryoporometry.